We all knew this change was coming for a while, but that doesn't make it any less impactful. The recent iOS update is going to mean some big changes to Facebook Ads, including who you can target and how, reporting timing, conversions, and more.
The good news: there are some ways around the changes to minimize the effect on your ad results.
Wait, what change is iOS making?
The new iOS 14 policy will prohibit the collection and sharing of certain data unless people opt in. Interestingly enough, this policy is an automatic opt out unless people indicate otherwise. And that's playing a significant role in who is sharing data—it's estimated just 4% of U.S. iPhone users who have the new software have decided to opt in to app tracking.
And it's not just Facebook that's affected. All apps are going to experience the same changes. Once someone opens an app on their iPhone under the new update, they'll receive a prompt asking them whether they want to opt in or opt out of tracking.
This approach by Apple is similar to what you've seen on websites in regard to cookie tracking, prompted by GDPR requirements. You've probably seen something like this on a site recently: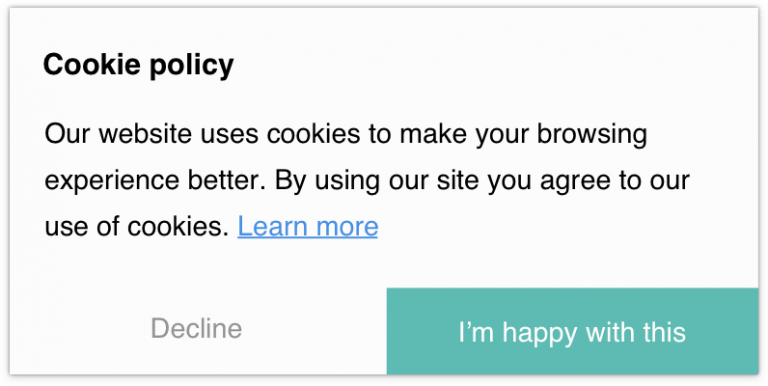 How your Facebook Ads will be affected
The bottom line is that this is going to have a domino effect on Facebook Ads:
The inability to track user behavior means the effectiveness of the tracking pixel and all retargeting pieces tied to it will be diminished. This will also lead to inaccurate reporting.
Targeting options overall will be limited, meaning the ability to deliver personalized or targeted ads will be compromised.
Limited targeting options means you'll be wasting spend on audiences who aren't your target.
Let's take a deeper look at exactly what you can expect to see in terms of targeting options, reporting capabilities, and return.
Optimization and targeting
In response to the iOS update, Facebook has implemented some of their own changes in an effort to get ahead of the impact.
You'll only be able to have eight events per domain and will need to rank them in order of priority. In some instances, only the top priority event will run.
Fewer tracking events mean that delivery and optimization are going to be less than optimal.
Attribution windows are going to look smaller, with a seven rather than 28-day window (more below). With that smaller window comes a smaller warm audience to retarget. If you're running ads related to website traffic, you'll see a drop there.
On top of that, you'll see retargeting, lookalike, and custom audiences are going to shrink due to the limited available data used to create them.
Measurement and reporting
Statistical modeling is going to be used for all iOS 14 users, which means the data you'll be receiving will no longer be exact. You're also going to start seeing depreciated attribution windows for the 28-day click, 28-day view, and seven-day view, resulting in under-reporting.
Expect to see some delayed reporting in addition to the above. It could take up to three days for a conversion to show up.
What changes you should make to your Facebook Ads
There was a period of time when Facebook was making a pitch in the hope Apple would reconsider. Now that the update is live though, it's time to take action on your ad accounts.
Set your primary events and update ads
If you have ads that are optimized for something outside of the eight events you've selected, those ads will be paused. Be sure to set your eight primary conversion events and then reassign ad goals as needed to one of those events.
If you don't take action and do this yourself, Facebook will automatically choose the eight events for you.
Verify your domain
Take the time to verify your domain through your Business Manager account. There are a few options available, including TXT DNS record, adding a meta tag to the <head> section of your website, or uploading an HTML file to your site directory.
If you don't take the time to verify your domain, you won't be able to edit any conversion events.
Facebook has put together its own list of tasks you should complete in their Resource Center. This is a new tab in the Ads Manager where you can get a checklist of everything you need to do for the iOS 14 update.
You'll also want to set up Conversions API to track server-side conversions in addition to the browser events that the Pixel tracks currently. They work well together, with Conversions API filling in the gaps for the Pixel.
Look for alternative options to cookie tracking
If cookies aren't going to give you the information you need to accurately target ads, seek other identifiers like email addresses and phone numbers.
While Conversion API (cAPI) isn't an exact solution to the issue, it's still something to look into. Facebook has indicated this should be a priority, particularly in light of other imminent cookie-based changes to browsers, such as Google's plan to kill off browser cookies by 2022.
Facebook Ads: make changes and be flexible
Without a doubt, you're going to see some changes in cost per leads and accuracy in targeting, which will likely lead to lower conversions.
It's important to be aware of the impact of the recent iOS 14 update and to update your ads to minimize its effects.
Not sure how to make those changes? We're here to help!