Get qualified leads to grow your business with data-first lead generation
If you're trying to bring in new customers through digital marketing, it can feel a little mysterious.
How do you bring leads into your pipeline?
More importantly, how do you bring qualified leads into your sales funnel—and keep them there? And then turn them into clients?
That's what lead generation is for. We help you bridge the gap between your business and your clients with our lead generation services.
PEOPLE ARE ALREADY LOOKING FOR YOU—THEY JUST DON'T KNOW IT YET.
WE COMBINE ON-BRAND CREATIVE WITH A SMART GROWTH STRATEGY TO BRING THE MOST QUALIFIED LEADS RIGHT TO YOUR PROVERBIAL FRONT DOOR.
We're a data-first marketing agency. That means we'll never encourage you to do anything without thoroughly backing it up with data.
That includes building your lead generation strategy. Before we recommend any course of action, we do a deep dive into your business so we can create a plan that's tailored precisely to what you need.
Lead generation is about bringing in business, but there's more to it than that. Depending on what your business goals are, we customize your strategy to help you get where you want to go. This can include:
Developing brand awareness
Informing or educating your audience about your product or services
Building or sustaining customer relationships
Generating more qualified leads
Closing deals
KNOW YOUR PROSPECTIVE AUDIENCE
Who is your audience?
We don't just mean demographically, although that's important.
We mean, really, who are they?
What makes them laugh, cry, think, and share?
What are their goals in life?
What are their pain points?
And how can your business help resolve them?
Once you've figured out those things, it's much easier to position your business in a way that resonates with them. But don't worry—you don't have to go it alone. We'll help you figure out the answers to these questions.
ASSESSING YOUR SALES FUNNEL
Your audience connects with you at different stages of purchasing, but are you providing them what they need to take the next step?
We work with you to identify gaps in your funnel so you're nurturing awareness, building engagement, and encouraging conversions.
OPTIMIZE YOUR LEAD GENERATION CAMPAIGN
Lead generation should be based on specific objectives that align with your business goals. We help you match your business goals with the right campaign objectives so you get better results faster. Things you'll want to consider:
What kind of campaign do you want to run?
What kind of offer are you providing?
How are you capturing lead information—and what are you doing with it?
A/B testing strategies to refine both creative and strategy
Lead scoring
Lead generation isn't just about getting immediate results. It's about the long game of bringing in customers, building relationships, and growing your business. We help you articulate your broader goals to make your strategy smart and comprehensive.
CUSTOMIZED LEAD GENERATION FOR COMPLIANCE-REGULATED INDUSTRIES & TECH
For businesses in the professional services industries, lead generation is important—and complicated. You have to be familiar with marketing compliance requirements. You have to navigate the competitive waters of in-demand services.
And you have to know how to use your budget strategically.
Lead generation for attorneys
Our lead-generating specialists can help you build a comprehensive lead generation strategy and grow your practice while following professional ethical standards.
Lead generation for accountants
Networking, word-of-mouth, and referrals—traditional and traditionally effective lead generation for accounting firms. But you can't rely on these tactics alone to grow your business. Reinforce your firm's growth strategy with a digital lead generation plan.
Lead generation for medical practices
The medical practice landscape is rapidly evolving with advancements in technology, policy requirements, public health demands, and patient expectations. We help you identify the gaps in your strategy so you can connect more effectively and efficiently with your audience.
Lead generation for SaaS companies
If you run a SaaS company, you're in the business of helping clients run their business more efficiently and more profitably. But how are you connecting with those clients? Our lead generation services for SaaS companies identify and target qualified leads and nurture them through your sales funnel.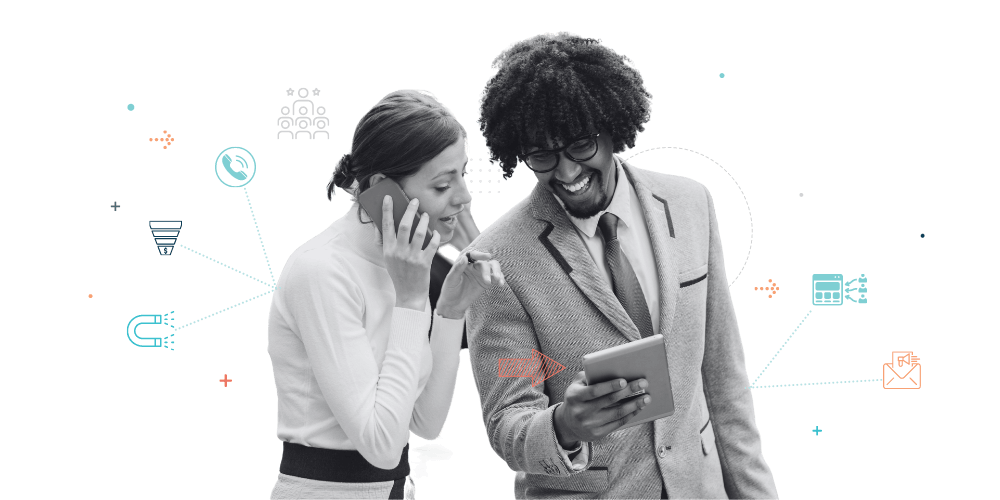 LEAD GENERATION STRATEGIES THAT DRIVE REVENUE AND BUILD BUSINESSES
We don't waste time with flash-in-the-pan gimmicks or unethical lead generation practices. 
We know which tactics get reliable results, and we use them to help you find your customers.
There's no one right way to generate leads, though. We identify the right mix of services and customize them for you.
Paid social
While organic social is great at building brand awareness, paid social is crucial when it comes to converting leads. Paid social media makes it more likely that your business gets in front of audiences. And thanks to advanced targeting options, it's even possible to create refined audiences for lead generation. (Yes, even with new iOs limitations!)
Lead magnets
Lead magnets and gated content? It's kind of our thing. We thoroughly research and thoughtfully write content that people get excited to click on. (And we'll also help you set up the content and forms on your site—saving you time and stress about implementation.)
Lead generation forms
Forms are a beautifully straightforward tool for lead generation—and they complement your other marketing activities. By setting up lead generation forms on your website, you can build your email list, offer discounts or promotions, and connect your audiences with lead magnets and other lead generation resources.
Drip campaigns and email automation
The flexibility of email marketing makes it an ideal tool for lead generation. Combined with paid ads and lead magnets, we build strategies around drip campaigns and email automations to keep your business top-of-mind for customers—and keep them clicking!
LEADS ARE JUST A CLICK AWAY WITH OUR LEAD GENERATION SERVICES
Lead generation doesn't require a crystal ball. You just need a strategy that's tailored to your business goals.
If you're curious how we can help you bring in more clients, more effectively, drop us a line.
We can't wait to hear from you.
What is lead generation in the first place?
Lead generation, at its most basic, is a marketing tactic to build interest in a business. Lead generation focuses on bringing in potential customers who are qualified—i.e., truly interested—in your services (rather than just anyone).
Why is lead generation important for my business?
Businesses have always needed leads—i.e., potential customers—to grow their business. We just talk about the activity differently now. Without new customers, generating revenue or growth simply can't happen. (That is, unless you have customers who have an incredibly high lifetime value!)
Lead generation helps you target new customers and build relationships with them, with the ultimate goal of winning their business. However, there's a high degree of competition in the marketplace, especially in professional services industries, and having a comprehensive strategy that fills all the gaps in your funnel is crucial for long-term success.
Do I need to buy leads?
We get it. The idea of buying leads is tempting. You're busy, you need business, and buying leads sounds like a quick solution to your problem.
Buying leads usually won't help you meet your goals, though. Leads that are purchased, rather than built through lead generation strategies, are frequently—if not always—of poor quality. You end up chasing after customers who aren't really interested!
Other problems include:
Lack of exclusivity of lists (i.e., your competitors are getting the same list!)
Sketchy privacy compliance by sellers
Email account penalties
We know building a business takes lots of work, but that's why we're here: To help you build your business click by lead-generating click!