LAW FIRM MARKETING AGENCY
Bringing your ideal clients to you
OUR APPROACH TO


LAW FIRM MARKETING
Law firms have unique marketing needs. And that means you need a marketing agency that understands the complexity of the legal field.
We work with you to develop a marketing strategy that brings in clients and strengthens your brand—all while meeting ethics requirements.
We'll help you determine what marketing channels make the most sense for your firm and execute a strategy designed to generate new leads and new clients.
If you're looking for a marketing agency that you can count on to deliver trustworthy recommendations and reliable results, the FocusWorks team is here to help.
BENEFITS OF ONLINE MARKETING FOR LAW FIRMS
Here's a quick experiment. Type "how" into your search engine of choice and see what comes up. From "How to boil an egg" to "How to tie a tie" to "How old is Queen Elizabeth," the trend is clear: In the 21st century, questions are answered by Google.
The good news is that this makes it easy to decide where you should focus your marketing efforts.
Online marketing strategies include social media, content marketing, PR placed articles, drip campaigns, SEO-friendly content, pay-per-click ads, retargeting, and more.
It's a lot! But we're here to help you pick and choose the best strategies for your business. A well-executed digital marketing campaign can lead to:
Decreased marketing costs
Higher search engine rankings
It can also help you build relationships with your audience, positioning you as a trusted authority in your field and a natural choice when your readers need to hire an attorney.
OUR NEW JERSEY DIGITAL MARKETING SERVICES
Content Marketing for Law Firms
From thought leadership to ad copy generation, our legal copywriting services help you meet your marketing needs.
Content about issues that matter to you and your clients, including publication-specific content for outlets like Forbes, Inc., Law.com, Accounting Today, Bloomberg, and other industry-leading publications
Search-engine friendly content that explains who you are and what you do—and provides valuable information to your target audience
Authoritative, in-depth reporting on the subjects that matter to your ideal clients
LEAD GENERATION FOR LAW FIRMS
Looking to bring in more leads? We'll create a strategy meant to show potential clients why you're the right firm for them—while also making sure that the calls you get come from your ideal clients.
Our goal is to create a lead funnel that reduces the amount of time your firm spends on intake by bringing in high-quality leads and priming them to convert before they even reach out.
Depending on your firm, we'll use a combination of techniques to boost your leads:
Conversion copywriting
Custom ads
Conversion Rate Optimization (CRO) on your website
Email automations and sequences
SOCIAL MEDIA MARKETING FOR LAW FIRMS
Our approach to social media marketing starts with understanding your brand, your ideal client, and your goals.
From there, we develop content that delivers value to your audience and presents your firm as the clear choice.
Facebook, Instagram, Twitter, LinkedIn—We'll help you determine where you need to be, then create content that keeps your audience coming back for more.
In today's world, social media reach is often pay-to-play. Our custom offers and funnels are designed to turn leads into clients.
EMAIL MARKETING FOR LAW FIRMS
Cut down on manual email sending and build relationships with leads, clients, and referral sources through our automation sequences, including:
Welcome series
Intake series
Lead sequence
Missed opportunity recapture series
Want to stay top of mind? Our unique newsletters will set you apart with an email that recipients can't wait to open.
Your website is a sales tool. We create custom websites that make sure site visitors can easily see your differentiators and get the information they need.
Aside from being user-friendly, we also optimize all of our websites for conversions. Once someone comes to your website, the goal is to capture their attention, get their information, and turn them into a lead.
The ABA's Model Rules of Professional Conduct isn't exactly a beach read—so unless a writer specializes in legal marketing, they may not be familiar with all of the specifics around what can and can't be said in advertising.
Compliance regulations also differ from state to state. And it's not small potatoes! An innocent copywriting slip could turn into an ethics violation.
Our team is trained in compliance for legal marketing
Our writers are consistently immersed in the dos, don'ts, and best practices for marketing in the legal field
Our professional relationship with the Legal Marketing Association helps us stay on the leading edge of compliance issues in advertising legal services
Our QA process puts everything through a rigorous examination by a highly trained copyeditor
WHY CHOOSE FOCUSWORKS FOR PROFESSIONAL COPYWRITING
We focus specifically on meeting the marketing needs of law firms across all areas of legal practice.
Our copywriters include writers with past legal experience, published authors, poets, professional freelancers, and graduates of some of the country's top writing programs.
Our copywriters include writers with past legal experience, published authors, poets, professional freelancers, and graduates of some of the country's top writing programs.
Our writers:
Understand voice—they know how to make you sound like you
Are skilled researchers with a wide range of professional experiences
Tailor content to outlet and audience
Excel at adapting technical content for a general readership
We also take match-making very seriously. We don't believe in a one-size-fits-all approach to copywriting. Instead, we form long-term relationships between our writers and clients.
Every little tweak or modification that you make is recorded and discussed by your content team—so that every piece of writing sounds like you (and nobody else).
Quality writing takes a lot of input—and we don't believe in sending copy out into the world until it's ready.
At FocusWorks, we believe in checking every box.
This means that at least three people touch every draft before you even see it.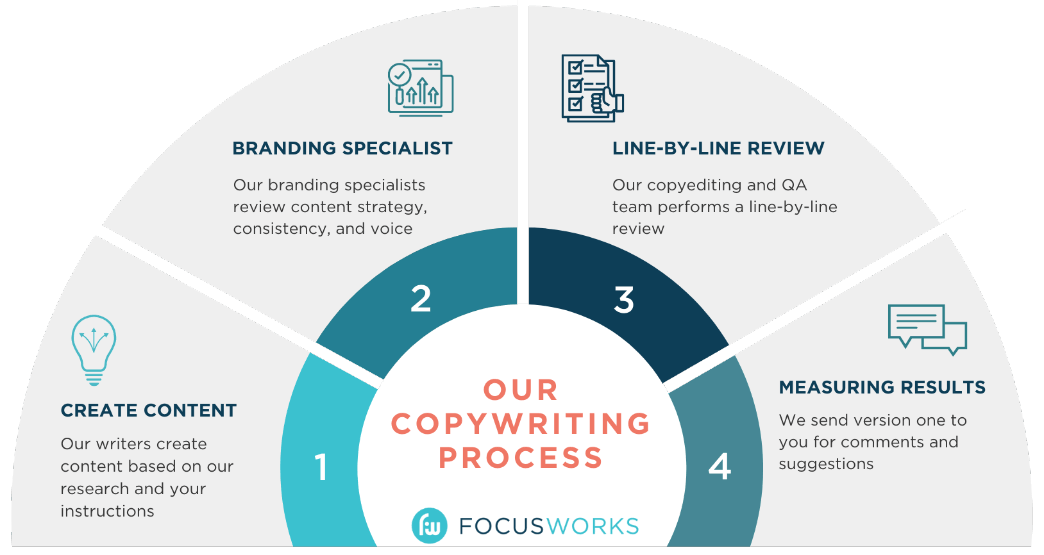 From there, we enter the revision process.
During revision, one of our brand specialists will receive your comments and communicate with you about any additions or refinements to copy or voice. After we receive your first round of comments, we'll go back to the drawing board to make needed updates.
Once revision is complete, we'll send a second version of the copy back to you, and the process begins again. By version three, the project is dialed in and ready to go—but we'll run it through our copyediting process one additional time to make sure that we have full confidence in every piece that goes live.
It might seem a little obsessive—but that's something we're proud of.
GET MORE LEADS FOR ATTORNEYS
As a full-service digital marketing agency with a specialty in serving law firms, we understand the strategic and technical requirements of legal marketing in a digital environment.
Our number one goal is helping our clients generate more qualified leads.
Curious about how we can help you? Just reach out.
We can't wait to get started.