Attorney Copywriting Agency
Legal writing that turns readers into clients
The legal industry is unique—and finding the right copywriter can be hard. You need somebody who understands the complexity of the legal field, understands your brand, and writes in a way that reflects what your firm brings to the table.
Law firm content should be authoritative, professional, clear, and sound like you—

all while meeting compliance standards
Whether it's in a website landing page, an email sequence, or a PR-placed article, the language you use matters. 
That's where we come in. We help firms of all sizes, from solo practitioners to international practices with thousands of lawyers, create content that converts.
BENEFITS OF CONTENT WRITING FOR LAW FIRMS
Content marketing is an effective conversion strategy for many types of businesses—and it's a particularly good fit for law firms. The law can be complicated, and you need clear, explanatory writing that cuts out the legalese and speaks to the reader.
A well-executed content marketing campaign can lead to:
Higher conversion rates and more leads
Higher search engine rankings
Increased brand awareness & thought leadership
It can also help you build relationships with your audience, positioning you as a trusted authority in your field and a natural choice when your readers need to hire an attorney.
Content marketing, a marketing strategy that involves the creation and distribution of valuable content, is a natural fit for law firms.
We create content that's readable and professional—with the goal of helping your ideal clients understand why you're the right law firm for them.
Here's an example.
Let's say that your prospective client wants to understand how custody laws affect travel with minor children:
When the Superior Court has jurisdiction over the custody and maintenance of the minor children of parents divorced, separated or living separate, and such children are natives of this State, or have resided five years within its limits, they shall not be removed out of its jurisdiction against their own consent, if of suitable age to signify the same, nor while under that age without the consent of both parents, unless the court, upon cause shown, shall otherwise order.
That's a mouthful! (A 79-word-sentence of a mouthful, to be exact.)
Unless the court orders otherwise, New Jersey requires both co-parents to consent to any travel outside of the state involving a minor child.
Exceptions apply for individuals who have lived in New Jersey for less than five years—so if you moved here recently with a minor child, trips back home might not require your co-parent's consent.
If you're a longtime resident, however, that annual Florida vacation now requires you to obtain permission from your co-parent—and failure to do so could result in legal trouble.
See the difference?
It takes a long time to become experienced in the interpretation and application of the law (hence, law school).
But your clients aren't looking for legalese. They're looking for a skilled attorney who understands what they're going through—which means that your copy needs to show both your human side and your legal experience.
Your clients are looking for a fellow human who understands both the law and the challenges of their specific situation—somebody experienced and wise who can guide them through a difficult time using language that speaks to their situation.
Our Content Copywriting Services for Law Firms
From thought leadership to ad copy generation, our legal copywriting services help you meet your marketing needs.
Blog & Article Copywriting
Content about issues that matter to you and your clients, including publication-specific content for outlets like Forbes, Inc., Law.com, Accounting Today, Bloomberg, and other industry-leading publications
Search-engine friendly content that explains who you are and what you do and provides valuable information to your target audience
Authoritative, in-depth reporting on the subjects that matter to your audience
Other Digital Marketing Services for Law Firms
Facebook-optimized content targeting the qualified leads in your geographic and practice areas
But where is all that top-notch content going to go? We'll handle web development, design, and layout—so that your visual branding is just as appealing as your written content
Email automation sequences & drip campaigns
Email automation series copywriting and campaign set-up—designed to bring in the right kind of clients for your firm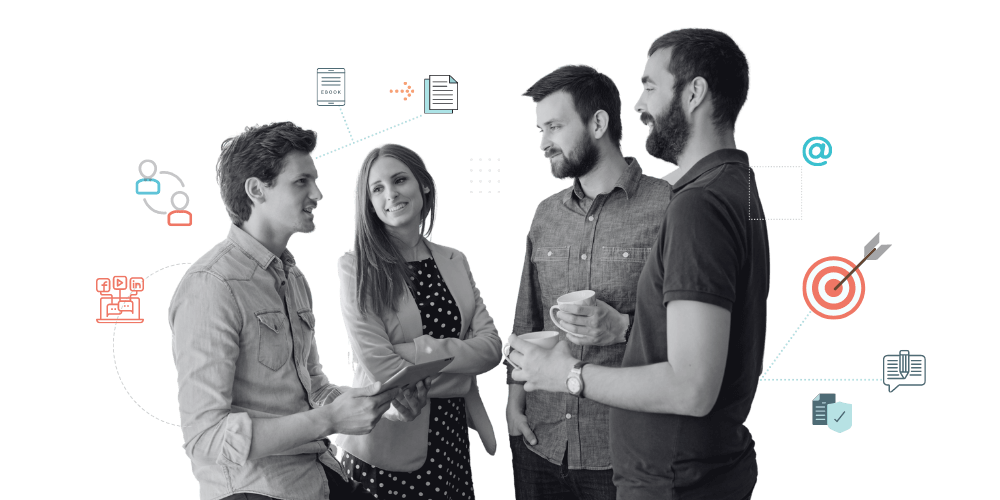 WHY CHOOSE FOCUSWORKS FOR PROFESSIONAL COPYWRITING?
We focus specifically on meeting the marketing needs of law firms across all areas of legal practice.
Our copywriters include writers with past legal experience, published authors, poets, professional freelancers, and graduates of some of the country's top writing programs.
Our writers:
Understand voice—they know how to make you sound like you
Are skilled researchers with a wide range of professional experiences
Tailor content to outlet and audience
Excel at adapting technical content for a general readership
We also take match-making very seriously. We don't believe in a one-size-fits-all approach to copywriting. Instead, we form long-term relationships between our writers and clients.
Every little tweak or modification that you make is recorded and discussed by your content team—so that every piece of writing sounds like you (and nobody else).
The ABA's Model Rules of Professional Conduct isn't exactly a beach read—so unless a writer specializes in legal marketing, they may not be familiar with all of the specifics around what can and can't be said in advertising.
Compliance regulations also differ from state to state. And it's not small potatoes! An innocent copywriting slip could turn into an ethics violation.
Our compliance approach:
Our team is trained in compliance for legal marketing
Our writers are consistently immersed in the dos, don'ts, and best practices for legal marketing
Our professional relationship with the Legal Marketing Association helps us stay on the leading edge of compliance issues in advertising legal services
Our QA process puts everything through a rigorous examination by a highly trained copyeditor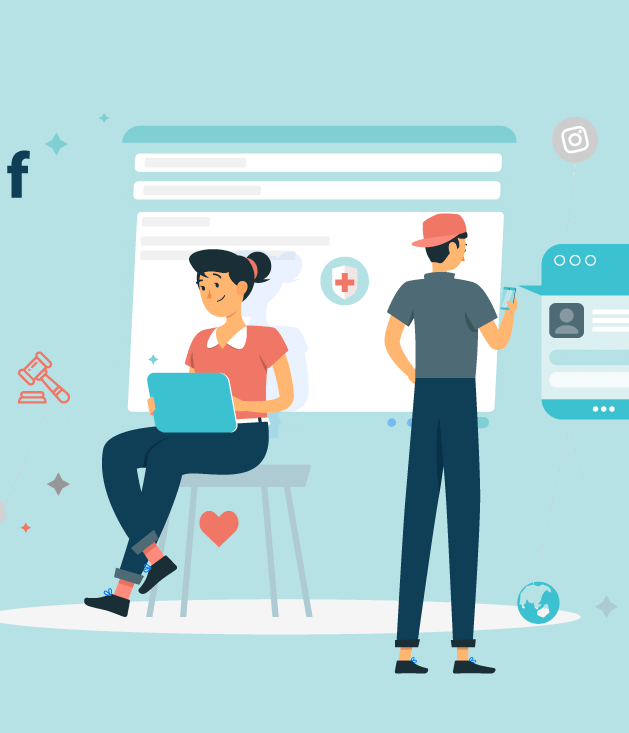 Here's a secret: copy is rarely exactly right for your brand and voice on the first go—and that's actually a good sign. Why? Because we aren't trying to make you sound like just any law firm.
Voice is a living thing. No matter how thorough our intake process is (and trust us, we're thorough), there's always additional discovery as we work with you to develop and refine your unique style.
The difference between a joke that's so you and something you'd never say might be subtle—and an authentic brand voice is all about the details.
It takes some time to figure it all out. You might not realize until you see the copy that second-person pronouns are a great fit for your firm—or that actually those semicolons really aren't working as well as you thought they would
As a very famous poet once said, "No surprise for the writer, no surprise for the reader." In other words, if you want to create good writing, you're going to learn something about yourself in the process.
Some marketing firms view this as a bug—you get what you get, and you can take it or leave it. The problem is that this approach limits you to sounding like the idea of a law firm: professional, generic, and impersonal.
At FocusWorks, we design our process around the fact that subtleties of voice emerge, develop, and are consistently refined.
To make sure that your voice represents you (and nobody else), we form long-term relationships between writers and clients.
GETTING STARTED
There are many different ways to get started.
Our writers are excellent researchers. If you know what you need but barely have time to start, we can take on the brunt of the research and creation work.
We'll present you with polished copy based on our own research and strategic insight.
We talk with you & then write
They say that a picture is worth a thousand words, and sometimes a call is worth a thousand web searches.
We'll ask you questions about your firm, your clients, and your objectives, and use what we learn to inform our copy.
If you want a stronger hand in the initial direction of your copy, we can make updates to pieces provided by you.
A caveat, though: making seamless revisions to somebody else's writing is often more time-consuming than creating from scratch—and it requires a lot more of your time, too. For this reason, we don't typically recommend this approach.
Write, revise, and write again
Quality writing takes a lot of input—and we don't believe in sending copy out into the world until it's ready.
At FocusWorks, we believe in checking every box.
This means that at least three people touch every draft before you even see it.
Here's a breakdown: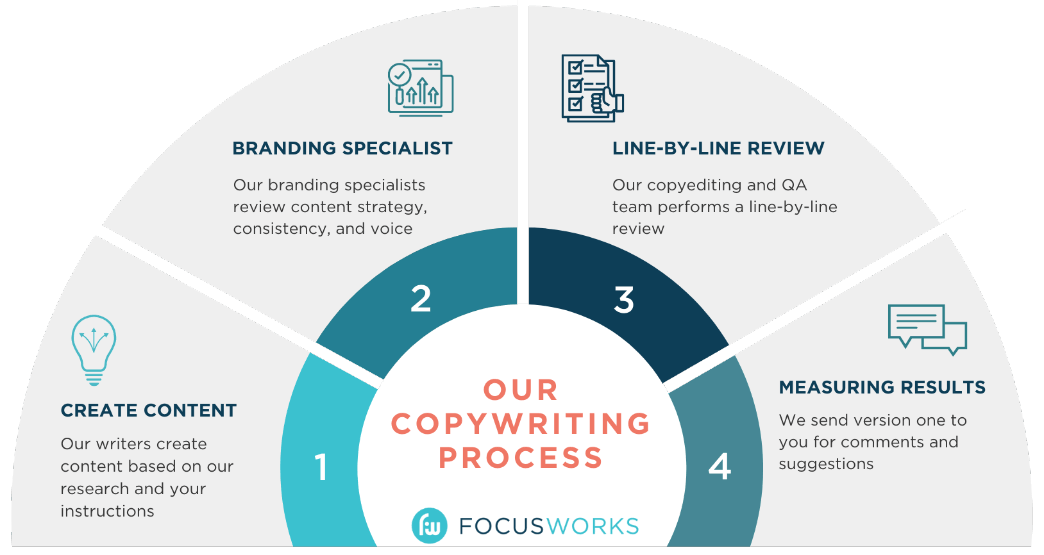 From there, we enter the revision process.
During revision, one of our brand specialists will receive your comments and communicate with you about any additions or refinements to copy or voice. After we receive your first round of comments, we'll go back to the drawing board to make needed updates.
Once revision is complete, we'll send a second version of the copy back to you—and the process begins again. By version three, the project is dialed in and ready to go—but we'll run it through our copyediting process one additional time to make sure that we have full confidence in every piece that goes live.
It might seem a little obsessive—but that's something we're proud of.
We're writers—from practice area pages to email automation sequences, we love all kinds of content.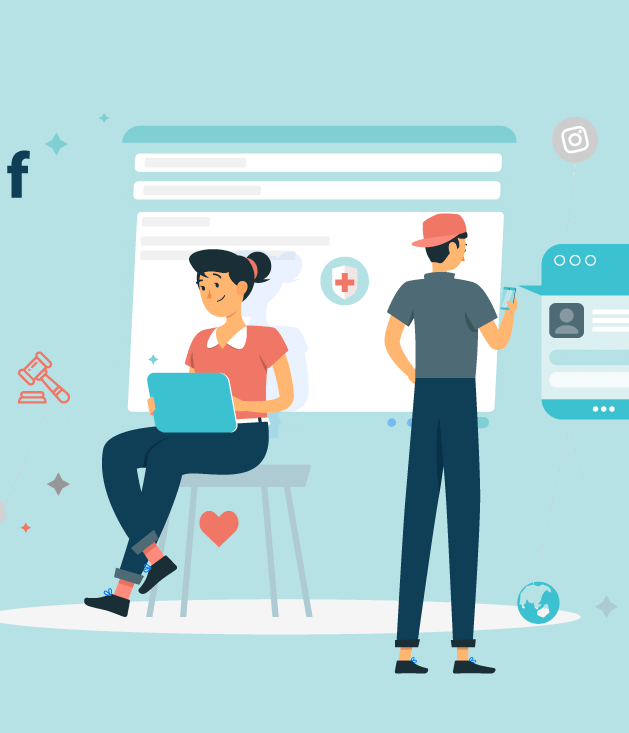 As legal marketers, we especially love content that generates qualified leads for our clients—and we bet that you do, too.
Our lead generation strategists put together email marketing campaigns and paid ad strategies designed to get you in front of the clients you're looking for.
That means we don't just generate the copy—we understand the strategic and technical requirements of legal marketing in a digital environment. We can also consult on recommended strategy in addition to executing campaigns.
GET MORE LEADS WITH A LAW FIRM COPYWRITING AGENCY
We say it all the time: we love talking to our clients. If you're wondering how we can help you connect with more clients, contact us today.
We can't wait to get started.
LAW FIRM COPYWRITING FAQS
How much does legal copywriting cost?
The cost of law firm marketing copywriting varies depending on outlet and length. Contact us to see our rate sheet—or for answers to your questions.
What's your turn-around time for law firm copywriting?
Quality content takes time—and we pride ourselves on being thorough. Typical turnaround time for pieces under 1,500 words is one week for existing clients. Rush work can be accommodated for an additional fee. Contact us with questions about availability and rates.